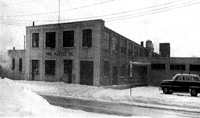 VPI History
A Catalyst of Innovation for Over 70 Years
Post War Innovation
Shortly after the end of World War II, as American businesses were returning to peacetime production, a group of Sheboygan, Wisconsin, investors formed Natural Products, Inc. The company utilized new technology developed during the war in the manufacture of plastics. Natural Products, Inc. established its first manufacturing facility in 1946 in an old factory building on 18th and Erie Avenue in Sheboygan. With used equipment and a team of East Coast "technical experts," the firm began manufacturing plastic wrap and sheeting.
After two years of struggling with little success, the fledgling company decided to "go it alone." Under the leadership of General Manager Ben W. Harff, production shifted to the manufacture of commercial floor tile. This effort, too, got off to a shaky start, as employees fought to master the new technology while simultaneously establishing the high level of quality the company required.
Late in 1949, while discussing the tile line with Dr. George J. Thomas, a recognized author on hospital hazards, Ben W. Harff became aware of the dire need for static control flooring in hospital operating rooms. The following July, after less than one year of research by Bill Hoffman to come up with the correct formula, the company introduced Statmate™, the first flooring specifically designed to dissipate static electrical charges. At that time, hospitals needed to reduce the risks of the highly explosive and flammable anesthetic gases used in their operating rooms, yet needed to maintain a very dry, non-humid atmosphere. Statmate™ met both of those needs and became the company's first successful product.
Natural Products was reorganized as Vinyl Plastics, LLC. (VPI) in 1951 when Robert E. Kohler joined the firm as President. During the 1950s and '60s, VPI broadened the market recognition and acceptance of its other vinyl tile flooring, opening sales on a worldwide basis. With the introduction of extruded wall base moldings as a complement to the flooring lines, the company entered a new phase of growth. As VPI's products achieved greater acceptance and prominence in the marketplace, VPI increased its employee base. By the mid-1960s, it became apparent that the Erie Avenue plant was inadequate to meet the projected volume of business, and VPI relocated to the present facility on South 9th Street, Sheboygan, in 1968. (Today this facility, having undergone several modernizations and updates, is still the home and global headquarters of VPI).
Growth & Changed
In the late 1960s, a number of people in the executive and middle management group were approaching retirement age. They realized, for VPI to survive and grow during the next ten years and beyond, that development of a "second generation" of managers well versed in modern plastics technology and contemporary business management, was vital. Between 1970 and 1975, R. Bruce Grover, Werner W. Krause, and Edwin L. Stone assumed new leadership roles and purchased VPI's stock. The job that lay ahead for these three men was no small one. The company entered the decade laden with heavy debt and high overhead, sales were in decline as the result of production interruptions stemming from the plant relocation and profits were non-existent. During the 1980s, the company was reorganized, and VPI became a structurally and geographically "divisionalized" company with the Floor Products Division based in Sheboygan, the Sheet Products Division in Sheboygan Falls, and the Contract Manufacturing Division operating in Manitowoc. Each of those divisions, and the divisions VPI subsequently added, were headed by a general manager and operated as independent stand alone profit centers with centralized functions (HR, IT etc) provided by the corporate staff in Sheboygan.
Recognizing that employees are the life blood of any world class business, VPI implemented a Lifelong Learning Program in 1989 under the guidance of Robert Leverenz, a member of the VPI Board of Directors. The Lifelong Learning Program provided a multi-pronged educational thrust consisting of in-house seminars on a wide variety of subjects, encouragement, guidance and support of individuals in pursuit of associate, baccalaureate and graduate degrees, and the support of vocational interests that broadened the scope of fulfillment for individual employees. A new Mission Statement, written and adopted by the company in 1990 reaffirmed VPI's dedication to people, processes, procedures, and products. It stated that: "VPI is an organization of people committed to continuous improvement of the products and services we provide to meet our customers' needs for commercial flooring, thermoplastic sheet, and custom compounding. We will achieve profitable growth in rapidly changing environments through the strategic marketing of new products, added value for existing products, and acquisitions which complement our manufacturing, marketing, and distribution skills". A Quality Statement, written and adopted at the same time, served as the guiding framework for conducting day-to-day business. It read:
"VPI is committed to a policy of continuous improvement of our ability to meet or exceed customer expectations for the products and services we offer. It is our basic operating philosophy to concentrate on prevention of problems, making quality a way of life which results in satisfied customers." All of this allowed VPI to put its total commitment to quality into motion. It is worth pointing out that although VPI has continually reinvented itself to meet and exceed the changing needs of the market, these principles remain intact, allowing VPI to differentiate its products and services through well thought out and well-executed customer-driven programs, policies and procedures.
In 1991, R. Bruce Grover was chosen as Wisconsin's Small Business Man of the Year. The honor is awarded on the basis of both business and personal achievement. First Wisconsin Bank noted that the President of VPI was "an individual of impeccable standards. He is a successful businessperson who has positively impacted the Sheboygan economy. He is a well-rounded leader who has shown a unique concern for his community." Shortly thereafter, Grover gained controlling interest of VPI in early 1992 when he completed the purchase of all remaining VPI stock from Edwin L. Stone and Werner W. Krause who were seeking to retire from active business life. However, both Stone and Krause remained on as members of the VPI Board of Directors. In 1993, VPI received the prestigious Wisconsin Manufacturer of the Year Special Award for Commitment to Employees based on its support of employee education through the Lifelong Learning Program. In 1999, VPI received the Governor's Exemplary Employer Award. This award honors businesses that have enhanced the quality of employment in the state of Wisconsin through employee-oriented enrichment programs. The award was granted to VPI because of the company's Lifelong Learning and Apprenticeship programs, growth through the American Mirrex acquisition, and commitment to the community, including support of the VPI Foundation.

VPI Today
In September 2004, Bruce Grover announced that based on family considerations, he intended to sell VPI. On January 1, 2005, the assets of the Floor Products Division of VPI, LLC, the original core business of VPI, were purchased by R. Steven Martin, Jeremy Williams and Robert Mac Pherson. Additionally, the assets of the Sheet Products operating division located in Sheboygan Falls, WI, the Contract Manufacturing operation division in Manitowoc, WI and the Film & Converting operating division in Salisbury, MD were purchased by Spartech Corporation and the assets of the Medical Products operating division in Sheboygan, WI were purchased by Coeur, Inc. Upon announcing the sale of VPI, Mr. Grover remarked: "Our family has been evaluating its personal and financial objectives and decided that, under the right circumstances, we would prefer to sell the company. The right circumstances included finding buyers, such as those we are announcing today, who clearly appreciate both the company's record of achievement and the employees whose work has made that success possible."
VPI Flooring Division, now operating as VPI Corporation, began with Mr. Martin serving as President and CEO, Mr. Williams as Executive VP and Chief Operating Officer and Mr. Mac Pherson as Executive VP and Chief Financial Officer. Mr. Martin and Mr. Mac Pherson were previously in the same respective roles at the Tone Brothers Spice Company in Ankeny, IA. Mr. Williams had been General Manager of VPI's Flooring Products Division for the past year and a half. A press release issued on January 3, 2005 regarding the acquisition included the following comments: "I couldn't be more excited about the company and its prospects for the future" said Mr. Martin. "It is extremely rare that you find a company of this size that has so many strengths on which you can build. VPI has tremendous brand equity in the industry, a market leadership position in static control tile, an excellent, established distribution network, and a systems infrastructure typically found only in much larger companies. Most importantly, VPI is blessed to have a very talented and dedicated workforce where the average employee tenure exceeds 20 years." "It is clear to me that under the ownership of Bruce Grover for the past 30 years, this company has been operated at the highest standards, has an enviable heritage of quality, innovation and service to its customers and has had a special relationship with its employees. I am very fortunate and feel privileged to have the opportunity to continue on this same path."
In 2008 the transition plan for the next generation of senior management was formalized. Steve Martin and Rob Mac Pherson took non-executive positions as Chairman and Vice Chairman, respectively, and Jeremy Williams was named President. Jeff Udovich was named Vice President, Finance and Administration. VPI, based in Sheboygan, Wisconsin, has been a catalyst of innovation and a leader in the flooring industry since its formation over 60 years ago. VPI invented static control tile and set the standards by which all other static control tiles are judged. Today, VPI has a full line of flooring products including static control tile, wallbase and transition moldings, rubber flooring, stair treads and accessories. Going forward under Jeremy's leadership, VPI continues to seek opportunities to diversify its product line, discover new uses for its wealth of technical expertise, display its ability to manufacture products with unequaled quality, consistency and reliability, and recognize and support the efforts of its employees. VPI understands its strengths and is focusing on them to secure a bright future for its customers, its employees, and for itself.